BIOGRAPHY
Boss Of Me
Owner / Author
December 2008 – current
I started writing business motivational books about five years ago. My books are:

Boss of Me– Features top 20 entrepreneurs in Singapore and they include Dr Georgia Lee, Mr Wee Kok Wah of Stamford Tyres, Royston Tan, and many more. Boss of Me is available in all local bookstores, on Amazon as well as regionally in Hong Kong, Malaysia, India, Thailand and Australia. It also became a bestseller at Popular Bookstore when it was launched.

Sleep & Get Rich– Profiles top 10 passive income earners in Singapore and they include Dr Dora Hoan of Best World, youngest insurance agent millionaire, Merry Riana as well as Mohamed Ismail of PropNex. Sleep & Get Rich is available in all local bookstores as well as on Amazon.

Asia's Dragons– My second e-book where I interviewed eight Internet entrepreneurs who are quietly making millions online. This was made into a print book called Secrets of Asia's Most Successful Internet Gurus, which was launched in July 2009.

Do You Have What It Takes To Be Boss? - Features interviews with Kenny Yap of Qian Hu, Loh Lik Peng of New Majestic Hotel, Theresa Chew of Expressions, Ryan Lee of X-Mini and Lim Choon Hong of XTRA Design. All proceeds from this book was donated to The Straits Times School Pocket Money Fund.

I Don't Want To Be Poor – The Boyd Au Success Story - Biography of one of Singapore's top entrepreneurs, Boyd Au, who rose from a Salvation Army waif to the chairman of a listed company. This book became number one on The Straits Times Bestsellers' List one week after it was launched! 

Chua Kim Yeow, Singapore's First Accountant-General – An Illustrious Career Remembered -
 Biography of Stamford Tyres' retired Chairman who was Singapore's first Accountant-General and a highly-prolific civil servant. This was a privately-commissioned book and not for sale.
Book launch of Mr Chua Kim Yeow's book with guest-of-honour Mr SR Nathan
My interview on Channel News Asia's PrimeTime Morning for my book, Secrets Of Asia's Most Successful Internet Gurus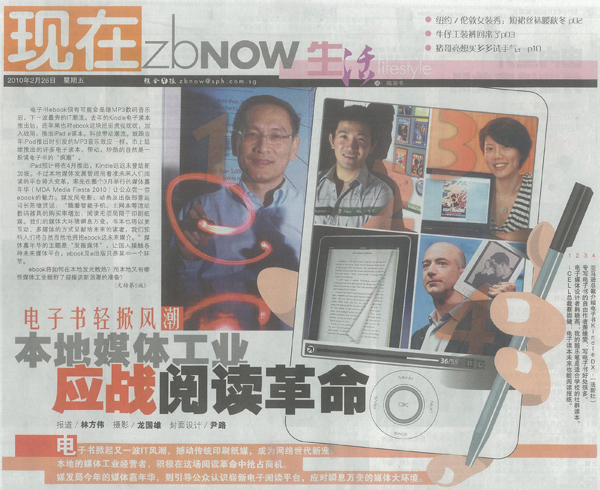 My interview in Lianhe Zaobao for my ebook, Asia's Dragons 
The Sunday Times feature of my latest book – Woman On Top by Dr Loretta Chen
Get your book out:
CONTACT
E-mail: pearlins@gmail.com